Anti-Bullying November 2019: 'Change Starts With Us'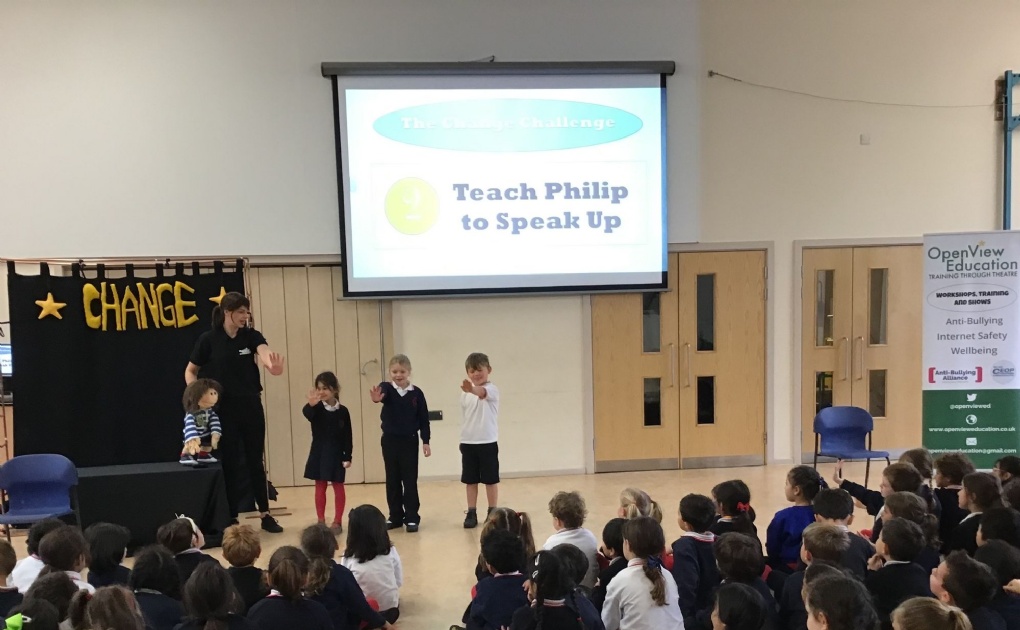 'Change Starts With Us' – Children and staff reflect during Anti-Bullying Week and consider how they can make the world a kinder place.
This year's theme was 'Change Starts With Us', encouraging everyone to see they have a role to play in creating a world that is friendlier and kinder. During Anti-Bullying week, and in the month of November, children took part in lots of different activities to promote this year's theme.
On 'Friendship Friday' we promoted happy, healthy friendships and on 'Odd Socks Day' pupils enjoyed wearing their odd socks to celebrate and show off what makes them unique! During our PSHE lessons, as well as story times and assemblies, we focussed on 'Celebrating Difference' which is our Jigsaw PSHE unit for this half term. The whole school have been learning to: accept that everyone is different; include others when working and playing; know how to help if someone is being bullied; try to solve problems; use kind words and know how to give and receive compliments.
We were very lucky to have some visitors to our school. Thank you to the PTA for funding a whole school Anti-Bullying themed performance called 'The Power of Change' by OpenView Education. During the performance, pupils met two characters called Philip and Milly. Using puppetry, circus skills, audience participation, videos and animations, pupils helped Philip and Milly to make small changes that made a big difference. They also learnt the 'change it chant' "Speak Up, Stand Tall". With every pupil watching the performance, it was a fun, interactive way of spreading a consistent message throughout the school. Here are some of the comments from our pupils about the performance and their learning:
"We taught the puppets to stand up tall, speak out and say stop I don't like it." Lizzie, YR
"I learnt to put your shoulders back and to be confident." Maggie, YR
"Philip didn't say stop I don't like it with his voice so they didn't know he didn't like it." YR
"It's not kind to laugh at your friends." Adam, YR
"It's good to be kind and say kind words." YR
"I am so glad that Milly decided to be a good friend again." Elise, Y1
"It was cool to go up and show how to stand tall." Elliot, Y1
"I learnt how to make kind choices." Saffron, Y1
"I learnt how to speak up." Elias, Y1
"I liked the puppets and how they made it seem more real." Sofia, Y3
"I liked the beginning when she did a show with the rainbows." Amelia, Y3
"It gives you a message that a small change can make a big difference." Harry, Y3
"It tells you how to deal with bullying so if I see it I can help others or if I experience it I know what to do." Rafferty, Y3
"It taught me what to do in tricky situations and how to react if I was unsure of something." Joe, Y6
"It was enlightening and a pleasure to watch." Maya F, Y6
"The assembly was really interesting but also fun; I really enjoyed learning that being yourself is okay and no-one should tell you what to do with your life. It also taught me not to change the way I am because of someone else." Katherine, Y6
Please see the Photo Gallery for photos of the performance.
OpenView Education also held workshops for pupils in Year 5. They explored power imbalance and focused on practising assertiveness and body language. They looked specifically at group messaging scenarios and dealing with conflicts. Here are some of the comments from our Year 5 pupils:
'I enjoyed the workshop because I think it is good for people to understand why you should not bully people and to be more inclusive.' Johnny, Y5
"We acted out different bullying scenarios in freeze frames and then we had to guess what was happening and learnt what to do. We learnt about different types of bullying and cyber bullying. If someone posted something on social media that you didn't like, you will have to tell an adult or ask them to take it off" Tallulah, Y5
''I really enjoyed the freeze frame in the workshop because they were very realistic and made me understand so much more about bullying. I also really liked the puppet show!' Maria, Y5
If you would like information on how to support your child at home, please visit Kidscape who have produced excellent advice on supporting children to develop respectful relationships. To help your child make smarter choices online and cope when they see online bullying, visit internet matters.
Mary Wakefield, PSHE Lead