Gardening Club reap rewards of hard work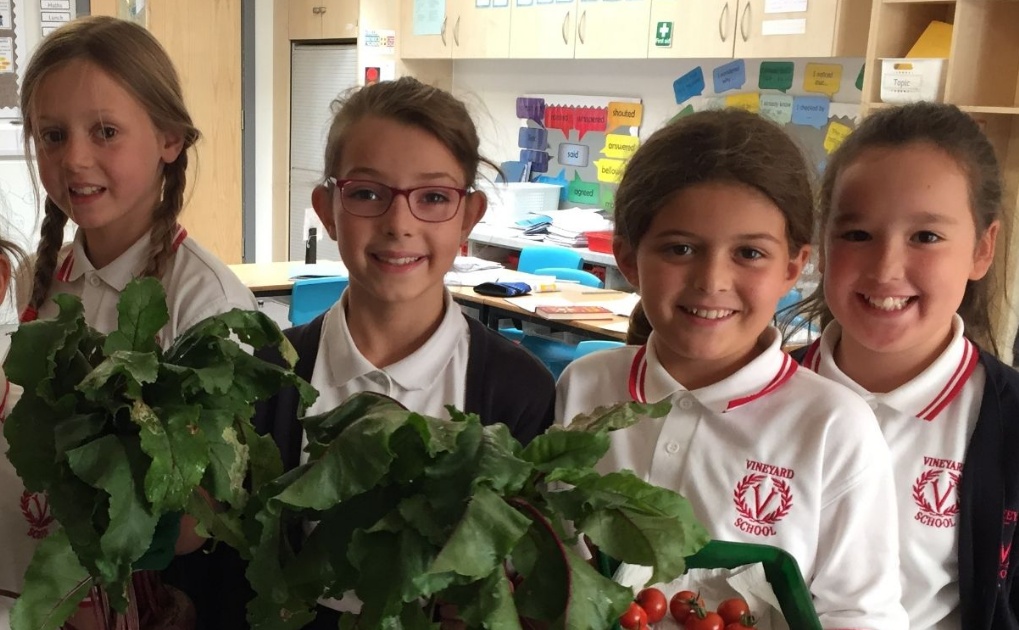 As the growing season draws to a close Mrs Darling reflects on why gardening is such an important learning activity for all our children.
The children of The Vineyard have been busy in the school vegetable gardens this year watering, weeding and picking crops to eat in class or to give to the school kitchen. As you can see, if has been a successful season.
Growing up in Somerset, fresh fruit and vegetables came from our garden or from the local farm. Children who grow up in cities don't always have such a clear understanding of where the food on their table originates. One of the joys of gardening with the children at The Vineyard is to see their delight in watching seeds germinate, watering plants and see them flourish and produce something recognisable and - more excitedly - edible. Add to that the sheer joy they get out of getting a bit mucky and finding a worm or two!
If you are in any doubt about why we should be encouraging the children to garden, please read the following quote from one parent:
"[My son] benefited hugely from last year's gardening club. It gave him the chance to escape from the busy school day and calm down in-between lessons. It encouraged him to plant his own vegetable patch at home and he has loved eating more vegetables since! I think it also gives teachers and children a way of bonding which is hard to do in class."
Next time you eat with your children, talk about the food that you are eating. Plants have roots, stems, leaves and flowers and may also bear fruit. Which part of the plant do you have on your plate? Make the connection between the name root vegetable and plants where you eat the bit that grows under the soil. Look at the seeds in tomatoes and cucumbers and discuss why if we eat them we don't have plants growing in our tummy. What about an onion or garlic – which part of the plant is that?
Encourage your children to look at labels on packaging and see where your fruit and vegetables come from. Can they tell you where Kent and Norfolk are? What other counties of England do they know? Which foods come from which continents and why can't we grow, say, bananas in TW10? Discuss why certain foods come from so far away and explore how they travel from the farm where they are grown to your table.
Set them a challenge. We don't often see lemons growing on trees in England! What do you think would happen if you planted a lemon pip in a pot on the kitchen window sill?
Next year, it would be great to see more gardening taking place across the school so that children of all year groups get to spend time outdoors learning how plants grow and start to take on the responsibility of looking after the school gardens.
If you (or possibly someone you know) are interested in gardening and would like to be part of a team tending the school gardens and supporting children across the school who want to participate, please send me (Mrs Darling) an email via the School Office. No specific skills are required, just time and enthusiasm!