Ink wells & tuck shops: Vineyard Alumni Reflect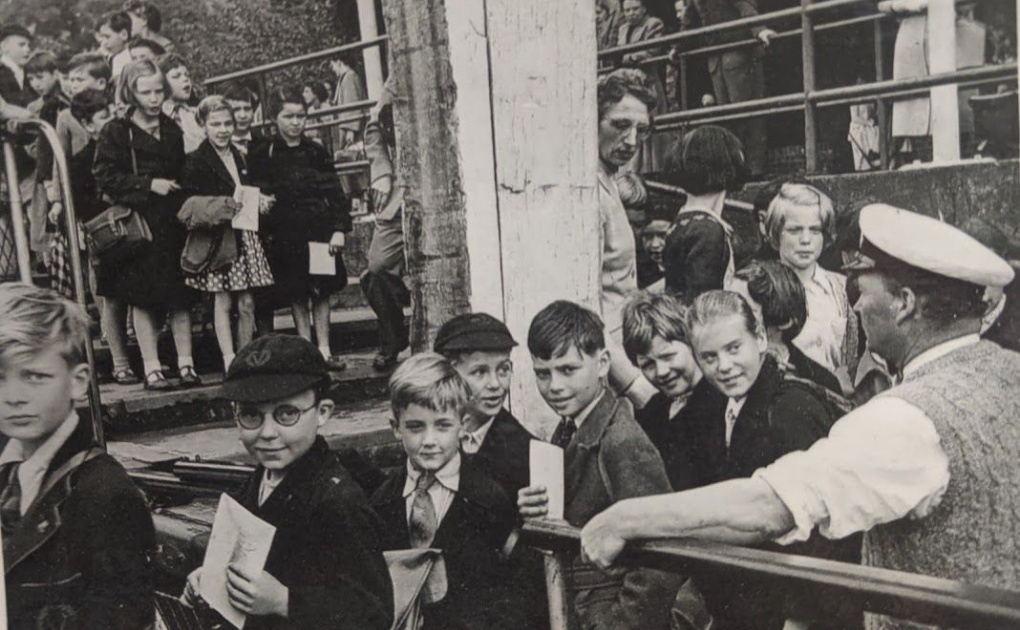 Former pupils Mike O'Sullivan and Ellie Roper reflect on Vinyeard life in the 1950s.
On a chilly day in November, our Key Stage 2 pupils were treated to a visit from some very special guests: thirteen former Vineyard students who attended our school more than 60 years ago. Below are the memories that they shared with the children.
MIKE
My name is Michael O'Sullivan, and on behalf of all your visitors today, thank you so much for letting us very old children come and see how things have changed since we were all together at The Vineyard School when it was down Onslow Road at the bottom of Richmond Hill – hands up if you know where that might be? There was another school building even before that one, but just think about us, your visitors, being at your school 65 years ago, before any of your teachers, and probably your parents as well, were even born!
In our day, the school was divided into two parts on the same site: the infants' part had Classes 1 to 3, and the juniors' part Classes E to A. I started in Miss Wright's infants' Class 1 in 1954 when I was nearly five and can remember crying when my parents handed me over in the corridor to Mrs Halliwell, the headmistress. I thought they were giving me away and can remember it as if it was only yesterday; I can even remember what Mrs Halliwell was wearing at the time, and the boy I sat next to on that first day – even that he had a cut on his top lip! I expect there are things that will stick in your mind about your time here until you get to our age, even some silly things. However, you won't realise that until you're much older.
As I had no brothers nor sisters, I loved mixing in with the other children, and, after that first day, I started really to enjoy going to school and making friends with the children in my class - mainly the boys as they liked to play football, marbles, conkers, British Bulldog, cowboys and Indians and cops and robbers. Unfortunately, I was never good-looking enough to be one of the boys the girls fancied in games of kiss-chase!
Speaking of cops and robbers, my Dad was a policeman in Richmond for many years, and we were so lucky to live in Heathshot in Friars Stile Road, just along the road from here. The block of flats was also somewhere with a ready supply of children for me to play with, either down one side of the Hill in Richmond Park, or into the town down the other side. That's not to forget the fun and excitement we had sledging down the Terrace Fields whenever it had snowed, using anything we could get our hands on: scraps of lino, old tin trays, flat pieces of wood or 'posh' proper toboggans.
The two parts of the school had separate playgrounds, and in the infants' one I was proud to be appointed a 'Toilet Detective' with the job at playtimes of making sure boys stayed away from the outside toilet block unless they actually needed to use it!
This infants' playground had four big boxes, one for each house, coloured either red, blue, green or yellow, where beans bags, hoops, skipping ropes, tennis balls and coloured bands were kept for games lessons. I was in Red House in both parts of the school, and the coloured bands were put over your head and across your body so that people could see what team you were in. You probably wear proper bibs for the same reason now.
When we reached eight-years-old, we moved up into the junior part, or the 'Big School' as we called it, where Mr Holiday was the headmaster. One of your lady visitors is going to tell you a bit more about life in the "Big School" back then, so I'll just concentrate on stuff we boys got up to!
During my first year there (Miss Knight's Class D), the School reached 100 years old, and we were taken by river boat from Richmond to Greenwich in London and back. We had all spent ages beforehand drawing and colouring maps of the river route and the famous buildings we'd be seeing, and I've had a keen interest in maps and map-making ever since.
The boys in the eldest two classes B and A practised football in the Old Deer Park every Thursday afternoon, and were joined by the girls in the summer term to play rounders (which I found boring). We'd tie the laces of our football boots together and hang them around our necks before walking in a column of pairs down Vineyard Passage and through the town to a pitch close to the playground that's still there today.
We sometimes played against other schools – Orchard, Meadlands, Darrell Road, Holy Trinity and St Elizabeth's, plus St Andrew's in Kew, though none of us can remember how we actually got to away matches; presumably by bus as there were far fewer cars in those days. Our shirts were red and blue quarters, and the goalkeeper's jersey was yellow and made out of very thick, itchy wool! I can only recall losing once: 1-0 to Meadlands School in Ham, in 1961. St Elizabeth's was even closer to Old Deer Park than our School, and when we played them, their whole school used to come and watch, sitting on the grass bank by the main road.
One of the not-so-good things about football lessons was that after every one, we had to smother the large, leather footballs with something called dubbin. Dubbin was a greasy mass of thick slime that had to be smeared by hand onto the ball to help prevent water from getting into its leather and making it very heavy next time it was used. It was very difficult to get the stuff off your hands afterwards, and you are lucky that modern footballs are made of stuff that resists water, so dubbin is no longer needed.
When we were nearly 11 in the very top Class A, we were allowed to do woodwork once a week, making things out of balsa wood, which is very soft and easy to cut and stick together. I used to carry my tools (hammer, mallet, saw, knife, pliers, ruler, pencil and glue) in a special suitcase with my name painted on it, but it can't have done me any good as I've been totally useless at woodwork ever since! I don't think you'd be allowed to walk around with some of those tools nowadays, do you?
Every Friday was 'Toy Day' when children were allowed to bring in their favourite toys to play with in class.
Throughout 'Big School', the four houses (still red, blue, green and yellow) competed against each other to be the top house of the term. Points were awarded for good schoolwork, good behaviour, and one point was given for every empty jam jar brought in; I have no idea what happened to these jars, just that once a term they'd be lined up in the school playground ready to be taken away somewhere! The start of modern recycling, perhaps?
Even though I'm now 70-years-old, I still remember my days at The Vineyard with extreme clarity and fondness. So do other past pupils, which is why so many of us meet up like we have today. That togetherness has remained even after our classmates were spread around to different secondary schools after we'd taken the 11+ exam.
The lady who will now talk to you was in the same class as me from the day she joined until the day we both left, and we still keep in touch after all these years, even though we went to different grammar schools.
Take full advantage of your days here and remember them. They are precious and will only come once in your lifetime, and whilst you don't know it yet, some of you will remain friends for life!
Thank you. Now please let Eleanor tell you some more.
ELEANOR
Good afternoon everyone. My name is Ellie Roper but when I was here I was called Eleanor Williams. I want to start by thanking you so much for letting us visit the school and talk to you about our experiences at The Vineyard.
I don't think that any of us can fully understand how much life has changed in what seems so short a time – our lifetimes!
I moved to Richmond when I was seven in 1957 so I didn't attend the infants (first) school here, but I did hear one story from Jennifer that when it was your birthday the headmistress would call you out to the front of assembly and pull your pigtails (plaits) as many times as you were old! If you were wondering, she'd now have to pull my plaits 69 times!
How many children are in your class now? Well, we were about 33 children to a class and we sat in double desks in rows. The desks had lift up lids and ink wells in the furthest corner from you. We had ink monitors who would fill up the ink wells and we would dip our pens into the ink to write. It could be very smudgy when we had finished writing.
The teacher would write on a blackboard with chalk and had a wooden black board rubber to clean up the board, unless this was left to the black board monitor to do in the break. We were very proud if we were chosen to be a monitor.
More of both these things later.
The teachers we had were Miss Knight in Reception, then Mrs Page who seemed very stern at first. Onto Mr Jenkins – well Mr Jenkins... I'll tell you more about him later. Our final year was spent with Mr Hughes. Our headmaster was called Mr Holiday and on a Friday at assembly he would bring his violin and play it while we sang the hymn: from memory, it was always 'To Be a Pilgrim'. Jenny tells me we would also practise all the five hymns for the next week as well with Miss Knight playing the piano.
Our school secretary was called Mrs Endicott and she would look after us if we needed first aid – this mostly consisted of some yellow stuff she put on a wound and a cuddle on her lap!
Break time.
We had to go out in our breaks, whatever the weather – more about that later.
I'm told that there had been a tuck shop (sweet shop) in the playground itself but that this was knocked down to enlarge the playground. But never fear, there was Mrs Sells sweetie shop on the corner of the road!
What did we play in break?
Two balls, which is a bit like juggling against the wall.
We also had a ball on a string that we would hit against the wall behind us – perhaps the early inspiration for garden swing ball.
Jacks and fivestones – ever heard of them?
Skipping with rhymes – two girls would hold the rope and we would jump in and out of the rope and sing rhymes, or you could just skip with your own rope.
Hopscotch – drawn out with chalk on the playground.
In the autumn... conker matches.
Oh... and kiss chase!
Also, in morning break, we would be given a third of a pint of milk in a special bottle made just for this. I hated it: it was warm in the summer and almost frozen still in the winter. I still don't drink milk!
Oh, and where were the toilets? Well, you guessed it – outside! Also a bit cold in the winter!
Jenny tells me that she brought her lunch to school in a little brown suitcase shaped box and sometimes she would be given chocolate sandwiches! I always loved school lunches though.
Remember I mentioned being a monitor? One day I thought I'd stay in and help my friend Anne Davis with her duties during break. I should really have been outside though, so when the bell went for the end of break I panicked and ran for the playground. Sadly, I took a tumble and landed head first in the school railings. Was an ambulance called? No! Mrs Endicott put some of the yellow stuff on my big bump and I went back into class. My mum had a fit when I got home and I was off school for three weeks with concussion! Just imagine.
Oh, and Mr Jenkins – well you didn't want to be naughty in his class and make him cross. It wasn't too bad if you were a girl but the boys often got a slap from a ruler across their hands or the black board rubber thrown at them! I can see your teachers faces!
The last memory I want to share with you is dancing. We had a wind-up record player and Mrs Page taught us country dancing in the hall. This meant holding hands with a boy – but I won't tell you who had the sweatiest palms!
In the Summer, we did Maypole dancing in the playground. Have you every seen it? We all stood around a pole holding a brightly coloured ribbon and skipped around each other till the ribbons formed a sort of plait around the pole. Then we reversed the process until the ribbons were straight again. I know some people have a memory of going to the May Fair and performing there. I really loved the dancing.
We did have houses and PE lessons in the playground. I think I was in the 'Green Team' and may have been the head student at one time, but it was an awful long time ago.
So, things have changed a lot but, as you can see by how many of us have come to visit you, we made good friends and happy memories while we were at The Vineyard. I hope you do too and remember you can do anything you desire if you try hard enough.
Thanks for having us.