Year 6 Rocket to Victory at Christ's STEM Day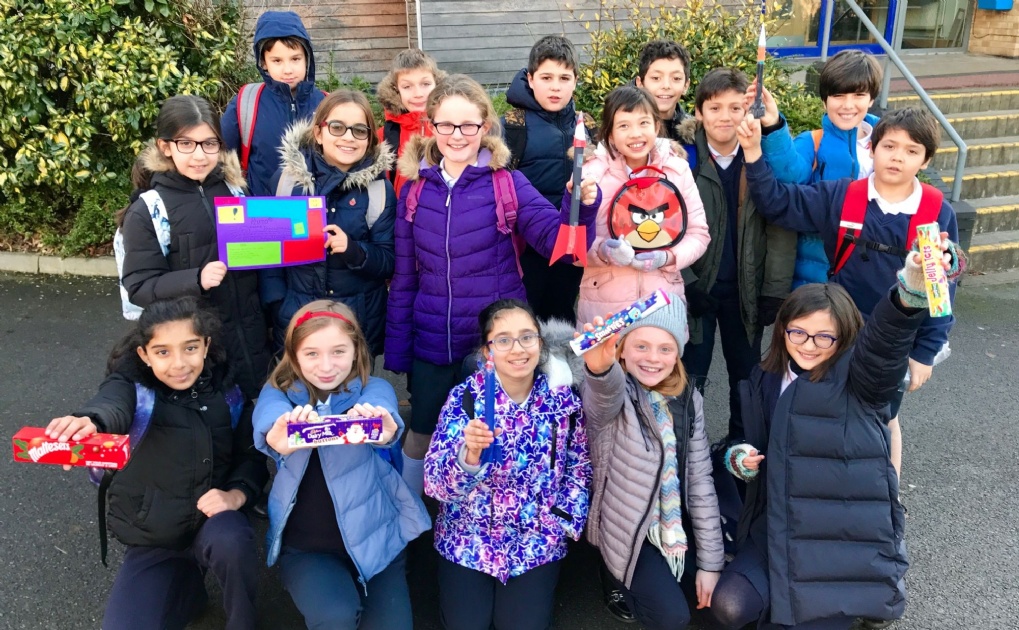 Sixteen Year 6 children were invited to Christ's Secondary School to take part in a series of science workshops to learn what it means to be an engineer. See the photo album here.
Article written by our science whiz kids.
On Monday 16th December, we were chosen to participate in a STEM-themed day at Christ's School. It included making DIY air-propelled rockets, writing code for an autonomous bus and code breaking. Several other schools took part and one of our three teams - 'Mars Bars' - came first in the rocket design challenge.
Our first STEM activity entailed making rockets from card, paper, tape and Blu Tack. We were tasked with making air-tight rockets in less than an hour. They were judged by the organisers of the event. The best designs had to be aerodynamic, cheap to make and light. We launched them by jumping onto an 'air pillow' which would cause the rockets to soar up through the air. One of our Vineyard rockets even hit the roof of Christ's gymnasium! However, a rival Vineyard team won after impressing the judges with their superb team effort. They bagged several packs of chocolates and sweets for winning!
The 'Mars Bars' were quoted after the event as saying, "We never expected to win. It turned out that the workshop organisers really helped us to reach our full engineering potential!"
In the Sphero activity, we had to code spherical robot. We were told to imagine that our robot was an autonomous (automatic) school bus and we were to code our way to 'school'. We also had to ensure that our bus stopped at a 'friend's house' on the way. As well as that, there were also some challenges that had to be overcome such as avoiding trees and making turns while working as a team. We used an app to program and launch our spheros. Using our knowledge, we also had to design and make a poster displaying the pros and cons of driverless vehicles.
"The entire experience was brilliant and I'm so pleased I got to do STEM for a whole day!" exclaimed Helena from 6 Garnet.
Poyraz concurred explaining that being able to do engineering in school was great fun. Maya M (6 Garnet) added, "This was a really worthwhile experience, and while I do still want to be a doctor when I'm older, I can see how enjoyable a STEM-focussed job could be."
The day was organised by Mr Holden, Head of Science at Christ's (thank you, Mr Holden!) and was presented by Smallpeice Trust, which is a charity that works to promote engineering careers to young people. The event was also supported by some of our fantastic parents who volunteered their time to supervise us during the day.
We had an amazing time and it really brought science to life!