Learn Its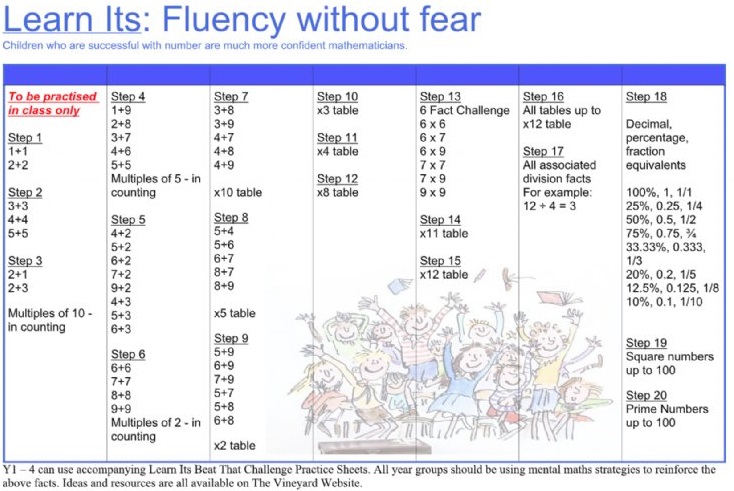 'Learn Its' is the term we use to describe a series of basic number facts that the children need to be able to recall with fluency (accurately and at speed - i.e. automatically). The term comes from a scheme of work that we used to use in maths lessons.
Possessing a secure grasp of these key facts frees up working memory meaning that your child is able to solve more complicated calculations and word problems with greater confidence, resilience and accuracy.
Statutory Times Tables Test
From the 2019-20 academic year, all Year 4 pupils in England must sit a new statutory test called the Multiplication Tables Check. The MTC is an online test administered in the Summer term where pupils are asked 25 questions on multiplication tables facts up to 12x12 (with a greater focus on the x6, x7, x8 and x9 tables). For every question, the child will have six seconds to read the calculation and input the answer. This is followed by a three second pause before the next question is displayed.
No additional time can be allocated to pupils with specific needs; however, there are some reasonable adjustments that can be made (such as some visual adjustments).
There test standard for the test is 100%: the published data will reflect this and their will be no additional breakdown of scores. In terms of purely academic attainment, this high standard provides further evidence for a rigorous approach to learning number facts, including times tables.
Your child can practise here; however, please ensure this tool is used with children who already demonstrate a secure grasp of the majority of multiplication facts.
To learn more about what other statutory maths tests your child will sit during their time at primary school, please visit the How is my child assessed? section.
Timed Assessments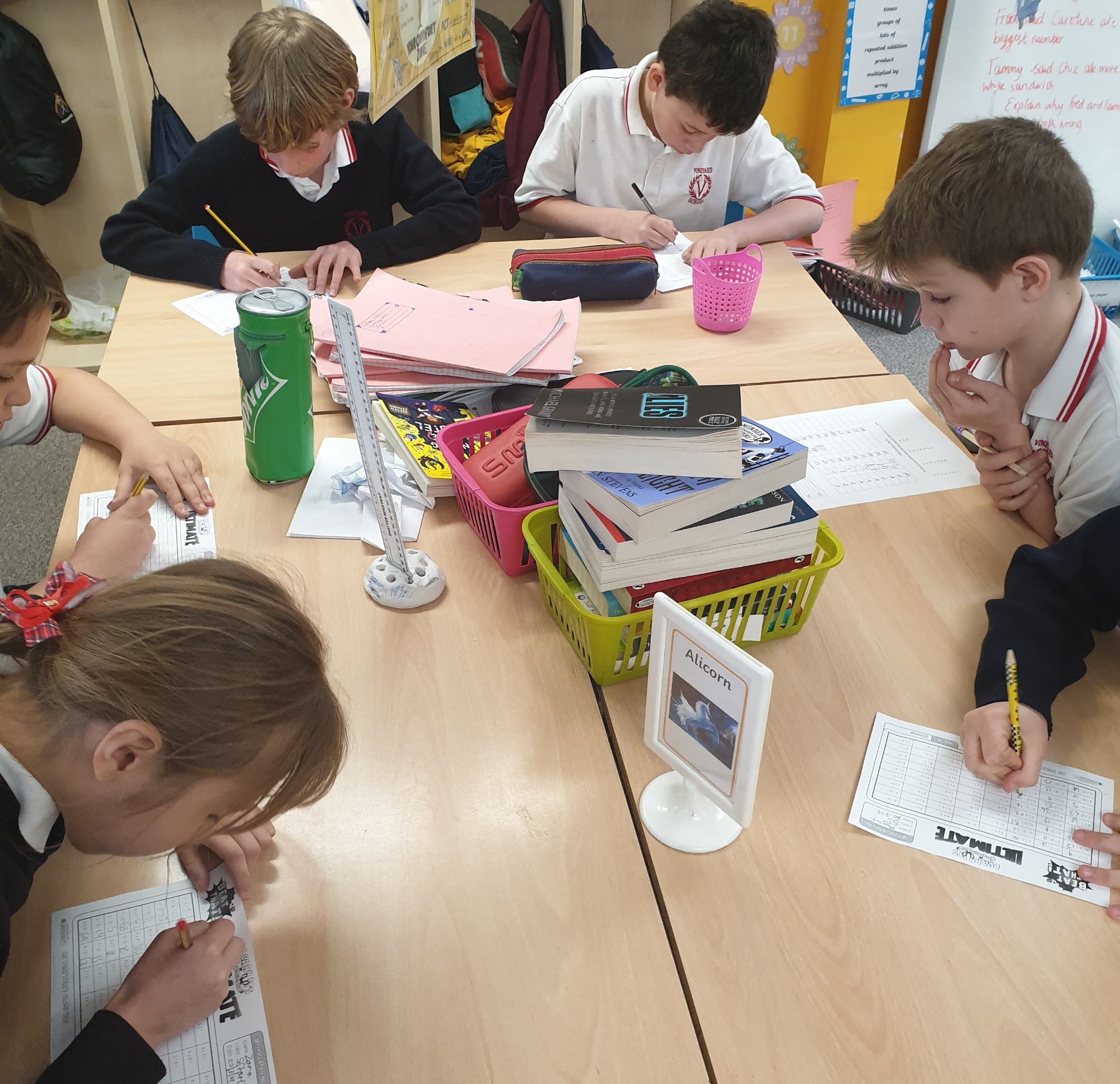 Children practise their Learn Its in school regularly and are tested on them once a week.
From Year 1 to Year 6, children are assessed each week to gain an understanding of their progress along the journey. The assessments they use should then be sent home with the children so parents / carers can also develop an understanding of their child's progress.
Each half term, class teachers will send a letter / ParentMail home informing parents of their child's current step so that practice can be targeted.
Home learning is key to your child's success on their Learn Its journey. Broadly speaking, practice should be quick, purposeful and regular. Just six questions a day is perfect; practising for 30 minutes at a time - whilst well-meaning - is unsustainable and will no doubt dent yours and your child's enjoyment of maths and home learning.
N.B. Reception children practise their Learn Its in school only.
Practice at Home
Parents are strongly encouraged to practise their child's Learn Its at home and the revision of these key number facts is part of our home learning strategy for all year groups in Key Stage 1 and 2. Practice should be daily and should also most certainly be fun, which is why we recommend the use of the following free apps.
Key Stage 1
Children in Key Stage 1 are able to use the free Fluent Maths app (designed by a Vineyard parent) which directly correlates with the Learn Its journey for Year 1 and Year 2. Pupils in Year 1 and 2 should spend at least five and ten minutes (respectively) on revising their Learn Its at home.
Key Stage 2
In line with the National Curriculum expectations for Year 4, the Learn Its journey sees children in this year group expected to know their multiplication tables facts up to 12x12. In order to support this, the school has a paid subscription to the Times Tables Rock Stars and pupils in the whole of Key Stage 2 have access to both the website and the app. Years 3, 4 and 5 should spend at least 15 minutes revising their Learn Its at home, while Year 6 should focus at least 20 minutes of their home learning time.
Learn Its Journey Overview
Below is an overview of the Learn Its journey. Key facts are grouped into steps which are then further grouped in columns.​ These columns broadly correlate to year groups from Reception to Year 6 (although children should not be restricted to a column if their recall of their year group Learn Its is secure).
Should you have any questions or queries, or if you require further advice on anything to do with the Learn Its journey or mathematics more generally, please do not hesitate to contact our Maths Lead for the school, Miss Salem, who will be happy to assist you.