Vineyard Recommended Reads!
Find out what Mr Jones is recommending to read this week and what is happening next in reading.
Not only is today National Teacher Day but it is also National Poetry Day. Poetry is a fantastic tool to learn about rhythm, rhyme and syllables. This poetry book was shortlisted for the SPARK book awards and is filled with 78 poems ranging from a Dragon in a Shoe to that Friday Feeling!
Evie recommends: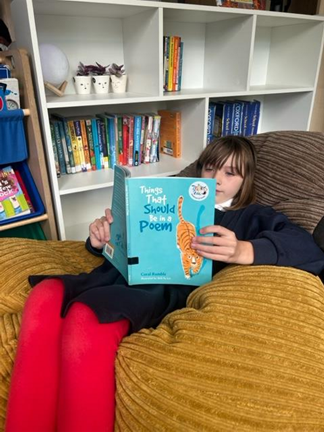 Things That Should Be in a Poem by Coral Rumble
Reading Age: year 1 - 6
Genre: poetry
Reading Workshop - 13th October at 9:15 - 9:45
On the 13th October at 9:15 - 9:45 I will be holding a reading workshop after the open classrooms, where I will be talking about choosing appropriate books, how to effectively question children about their reading and The Vineyard's expectations for reading. This is available for all parents to attend.