History of The Vineyard
It is hard to imagine, observing the maze of modern buildings, that our school's history began over 160 years ago when a boys' school was established in the basement of the Vineyard Chapel, Vineyard Road, Richmond. The name lives on.
Earl Russell (1792- 1878) - later to be Lord Russell, Prime Minister of Great Britain - attended the opening of the first Vineyard School that was paid for 'by means of goodly subscriptions'. Surely there are few schools that can boast of that.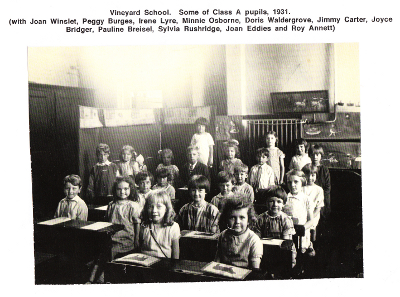 Over time, the school became so popular that girls were allowed to attend. As a result, larger premises were required and so a new school was purpose-built in 1867 (this building still stands in the Vineyard Road). Despite two World Wars, The Vineyard School continued to teach the children of Richmond and remains at the heart of our community.
So, why is The Vineyard school not still in The Vineyard? Lack of space meant that the educational needs of modern children could not be met on the original site.
A new building was built close by in Marchmont Road and the infants moved there in 1961. Unfortunately, the high alumina cement used in the construction was unsuitable and the children were moved out post haste. After a brief period of moving from place-to-place, a new school was built at the top of Richmond Hill. If you look at the gate posts either side of the entrance to our school drive, you will see a coat of arms for the Wesleyian College (now the American University, Richmond). Land was purchased from the college and building work on the current infant department began.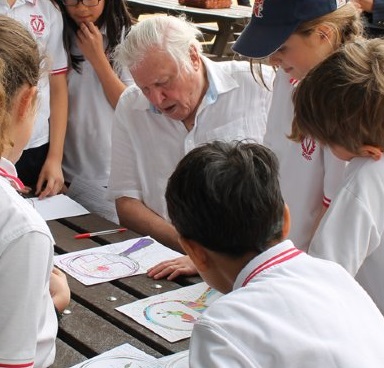 Opening on 3rd November 1977, it remained the only school in the spacious grounds until 1984 when the junior school (opened by Sir David Attenborough) also moved onto the site. In the staff room, the RSJ marking the position of the defunct wall between the infant and junior school staff rooms can still be seen.
In 1992, the two schools were amalgamated to form our current Vineyard Primary School.
Since those humble beginnings over 160 years ago, our values and aims remain the same. We are still a local school, embedded within our community, proud of our heritage and excited about the future as we continue to make our own history.