Our Curriculum
At The Vineyard, our goal is to nurture independent minds that are inquisitive, critical and open to challenge whilst empowering those around them. Our aim is to ensure that every child in the school develops a lifelong love of learning that is underpinned by rigorous attention to the development of essential knowledge, skills and tools. We have planned a curriculum that is ambitious and one that is designed to give all Vineyard children - whatever their background, home-language, gender, race, or ability - the knowledge and cultural capital they need to succeed in life. Our curriculum will stretch and challenge all pupils, whatever their starting point, to achieve their full potential. We believe that all our children deserve to learn from the best thinkers, scientists, artists, designers and authors, so we have ensured that as many of these as possible (male, female, dead, alive, British, global) are featured in their learning. Our curriculum recognises the importance of physical and mental wellbeing, good health, and promotes an active lifestyle.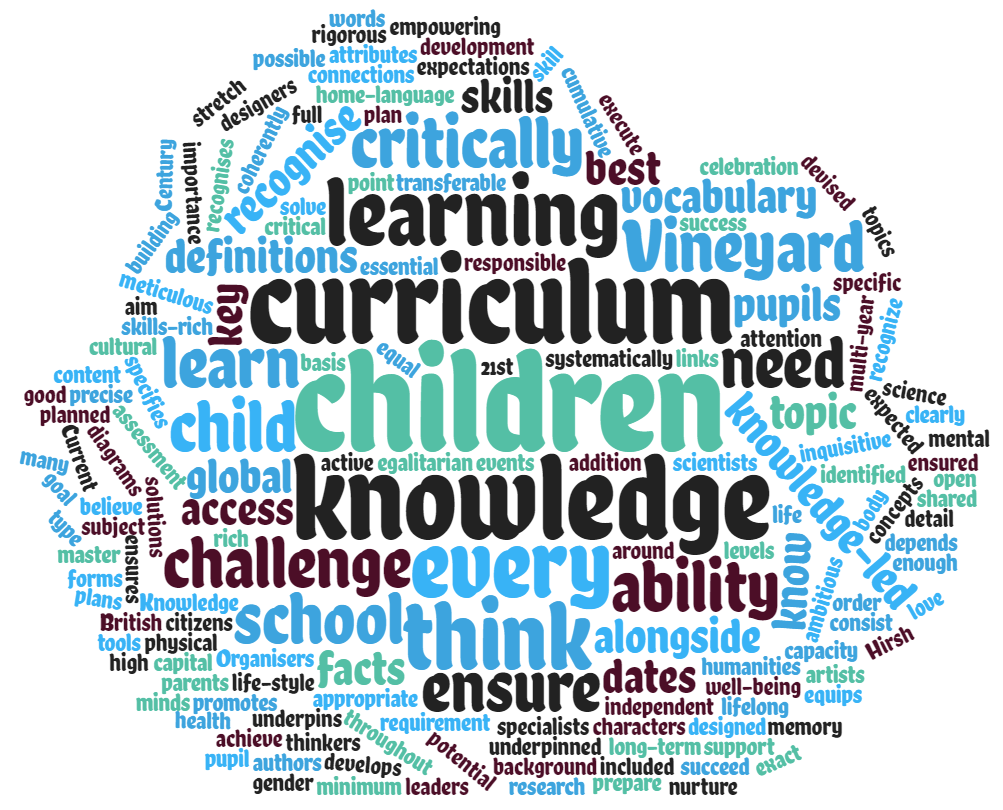 We recognise that what Vineyard children need above all else is a knowledge-led, skills-rich curriculum; knowledge underpins a child's capacity to think clearly and to make connections and links. Current research tells us that the ability to think critically depends on having adequate content knowledge; children cannot think critically about topics they know little about or solve problems that they do not know well enough to recognise and execute the type of solutions they call for. Our knowledge-rich curriculum specifies, in meticulous detail, the exact facts, dates, events, characters, concepts and precise definitions that all pupils are expected to master in long-term memory. It also equips children with a rich vocabulary.
"The best way to learn lots of words is to systematically and coherently learn lots of things. The most egalitarian school is one that follows a cumulative, multi-year plan of knowledge building." (E.D Hirsh)
In addition, we recognise that to prepare children to become responsible global citizens, they will also need 21st Century transferable skills and attributes. We have identified what these mean to us (see attachment below) and have included these in our plans. We believe that the key skill here is the ability to think critically. Our curriculum ensures equal access to learning, with high expectations for every pupil and appropriate levels of challenge and support alongside the celebration of success in all its forms.
In order to ensure that every child has access to the same body of knowledge, school leaders, alongside subject specialists, have devised Knowledge Organisers for every topic in science and the humanities. These consist of the minimum requirement for each child about that specific unit and covers key facts, vocabulary, dates, definitions, and diagrams. These are given to children at the start of every unit, are shared with parents, and also form the basis for the assessment of learning throughout the topic.